Virago Gallery in West Seattle has a little bit of everything I love; stunning jewelry and textiles, moody tarot decks and flourishing plants; thoughtful art and punk music playing on vinyl all day. What I love most, though, is the owner, Tracy Cilona. She started Virago, which means female warrior, as a space to celebrate and curate the artistic and entreprueneral endeavors of WOMXN. Virago is an independent, woman-owned gallery that makes space for womxn and LGBTQ artists. To say I am honored to be among them is an understatement.
While Kim of Foster Merritt listened to My Favorite Murder, I built a hanging installation of dried foliage and flowers I had been collecting and hanging in the tiny kitchen of my studio apartment for over a month. In honor of the phases of the moon, the foliage transitioned from golden and bright on one end to dark and thorny on the other. The effect of the suspended, dried flowers was pretty wicked.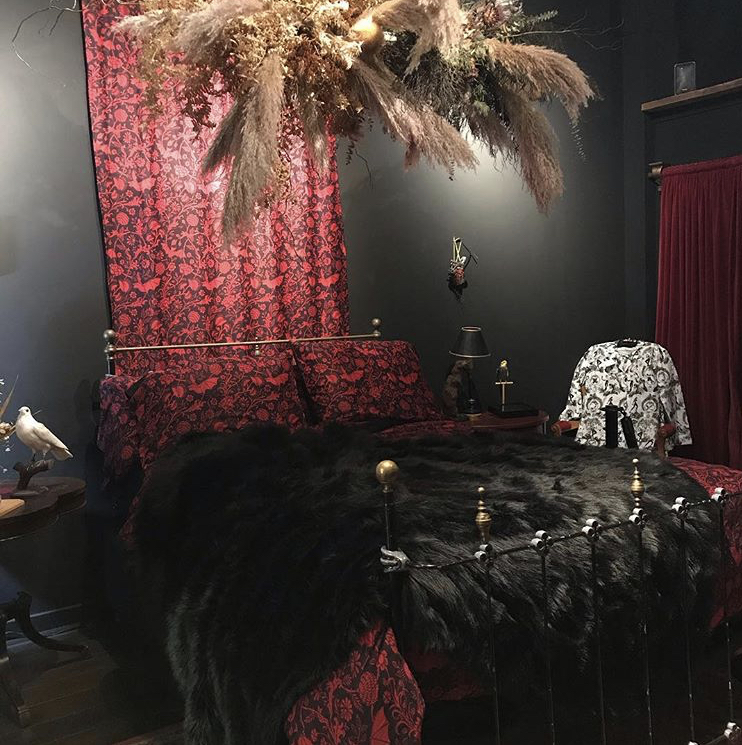 The idea for the New Moon Pop-Up in October and November of 2018 was to "celebrate the Full moon in Taurus, Samhain, Halloween, All Saint's Day and Day of The Dead with an installation by three local businesses that embody the beautiful darkness of this time of year." Tracy worked with Sandy of Sin in Linen to turn her gallery into the goth bedroom of every pin-up girl's dream, complete with taxidermy bats and butterflies courtesy of Belfry Oddities. I knew from the first conversation that only a dramatic installation would fit the luxury and decadence of such a space.
This exhibit affirmed a lot of hopes for my creative endeavors. I hope to always have such a rich story to share and wonderful humans to collaborate with. Did you get to see the exhibit? Was it the goth boudoir of your dreams? Cheers to collaborations with powerful womxn, witchy vibes, and New Moon celebrations!